Simformer reviewed positively and receives two prestigious SAAS awards for corporate LMS software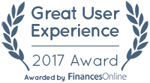 When choosing the perfect-cut LMS application on a market full of promising solutions, customer like to rely on expert opinion before even testing or considering a product. This is why scoring positively on B2B platforms ranked as high as FinancesOnline.com is the success all vendors aspire for, and work hard to achieve. For Simformer, the wish is now made reality: Our corporate LMS has been recommended by experts as a scalable and flexible LMS, and holds two of the top 2017 awards the platform reserved for best-of-breed solutions.
That's right, Simformer is now distinguished with a Great User Experience Award, and has also become Finances Online's 2017 Rising Star for the corporate LMS software category. This means a lot to us, knowing that both awards usually end up in the hands of innovative and promising products that do the best job delivering learning management functionality.
In fact, experts were so fascinated by Simformer's devotion to accurate testing and business simulations that they listed it among their most popular LMS software tools. As they explain in the review, Simformer allows corporate users to build training courses that target the development of general and specific sets of skills and competencies, and improves the process with a set of gamification features that inspire and boost interaction. They didn't forget to mention the other core capabilities of our system next to employee retention, in particular education technology, game design and development, business development, HR, and systems development.